WN Slurry Dredging Pump
Product Detail
Product Tags
Descrrption:
Dredging pump is a new type of WN pump researched & manufactured by our company,aiming at rivers and seas out of repair. Dredging pump is a single-stage single suction cantilever horizontal centrifugal pump with advantages of light weight, good wear-resistan, super dredging performance, perfectly suited for the dredge on the whole construction, high multiple economy benefits, etc.. It throughout meets requirements of the dredge to dredging pumps.
Application:
Our dredging pumps are widely used to dredge and dam in the rivers, ports and wharf over our country, such as Yangtze river , The Yellow River , Liao River, and Zhujiang Delta. Besides, sold to Europe, Middle East and Southeast Asia. CCS(China Classification Society) has inspected each set.
Function Introduction:
1. This pump is of horizontal cantilevered single-casing centrifugal pump.
2. Construction of this pump is of single casing connected by means of clamp bands and the discharge direction of pump can be oriented in any direction of 360. the type of pump possesses the advantages of easy installation.
3. The cylinder –type bearing assembly with oil lubrication is adopted by the pump. It is suit for adjusting the distance between impeller and pump. The bearing assembly uses oil lubrication.
4. Three kinds of shaft seal---mechanical seal, expeller seal and packing seal
5. Wide passage , good performance of NPSH, anti-wearing and anti-corrosion, and high efficiency,
6. The type of driver just have v belt driver, gearbox driver, elastic coupling driver, fluid couplings driver, frequency conversion driver, silicon controlled rectifier speed regulation etc.
Pump Features:
a) Advanced hydraulic model, CAD 3D design, high efficiency and obvious energy-saving
b) Large dredging depth, high density of dredging mud, good NPSH and strong suction lift ability
c) Strong through-put. The pump can presistently discharge gravel, high plastic soil lump,etc.
d) The pump can be directly matched with either motor or diesel engine
e) Wide application. It can be used in various kinds of soil quality. Generally, the pump is matched
with an impeller with 3 or 5 pieces of vane. At the same time, the impellers can be provided with
various diameters and vane types to suit kinds of working condition.
f) Little hydraulic loss, high efficiency and low oil-consumption
g) Little volume, light weight
h) Steady operating, little vibration, low noise
i) Simple & reliable constrution, easily disassembly & assembly,convenient maintaince
j) Reliable sealing without leakage
k) Long operating life of parts
Structure: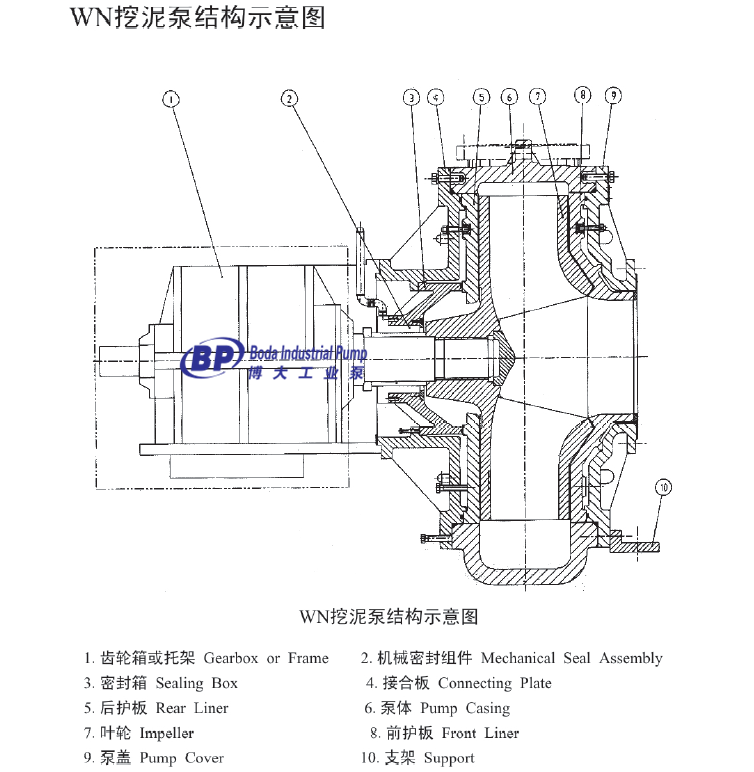 Technical Data:
Model
Capacity
Head
Speed
Effi
Inner diameter
Outer diameter
 NPSHr
Max. passing particle size(mm)
m3/h
m
r/min
%
mm
mm
m
5-blade
3-blade
250WN
1100-1300
40-65
500-650
70-74
350
250
<4.5
86
144
300WN
1500-2200
30-65
400-550
74-78
450
300
<4
144
241
450WN
3000-4000
35-67
350-500
76-80
600
450
<4.5
125
254
500WN
4000-5500
40-65
350-450
78-80
650
500
<4.8
150
250
600WN
5000-9000
55-80
320-400
81-85
650
 600
<6
160
220
700WN
8000-12000
60-85
280-380
83-85
750
700
<6
180
280
800WN
10000-15000
50-70
260-360
79-80
850
800
<6
200
300
900WN
12000-19000
50-75
280-330
73-85
950
900
<6
210
320
1000WN
16000-25000
23-76
180-290
85-87
1100
1000
<6
230
350
Disclaimer: The intellectual property shown on the listed product(s) belongs to third parties. These products are only offered as examples of our production capabilities, and not for sale.
---
---
Write your message here and send it to us