CQB stainless steel magnetic pump
Product Detail
Product Tags
CQB SS Magnetic drive centrifugal pump
CQB magnetic drive centrifugal pump (referred to as magnetic pump), usually by the motor, magnetic coupling and corrosion resistant centrifugal pump. Its main feature is the use of magnetic coupling transmission power, no leakage, when the magnet rotates the motor drive magnetic coupling, magnetic flux through the gap and isolation units, acting on the magnet, the pump rotor and the motor synchronous rotation, no mechanical contact to transfer torque. In the power input shaft of the pump, the liquid is enclosed in a static isolation sleeve, so that there is no dynamic seal and no leakage.
CQB series magnetic pump is a new type of completely non leakage corrosion resistant pump developed by the national joint design group of magnetic pump. Its technical and economic indexes are similar to those of other similar products in the late 80s.
CQB series magnetic pump type and basic parameters in line with JB / T 7742 - 1995《small magnetic drive centrifugal pump type and basic parameters》 standard and 《small magnetic drive centrifugal pump of the supplementary provisions of the three standards》.
CQB SS Magnetic drive centrifugal pump
CQB series magnetic pump is suitable for the industries of petroleum, chemical, pharmaceutical, metallurgy, electroplating, environmental protection, food, water treatment, film and printing photos, national defense, transportation is inflammable and explosive, volatile, toxic, rare and precious liquid and all kinds of corrosive liquid ideal equipment. Suitable for conveying the suction pressure is less than 0.2MPa, the maximum working pressure of 2.5MPa, temperature are less than 100, the density of less than 1600kg/m3, the viscosity is not greater than 30 x 10-6 m2/s not containing hard particles and fiber liquid.
CQB SS Magnetic drive centrifugal pump structure
CQB Performance parameters of SS magnetic drive centrifugal pump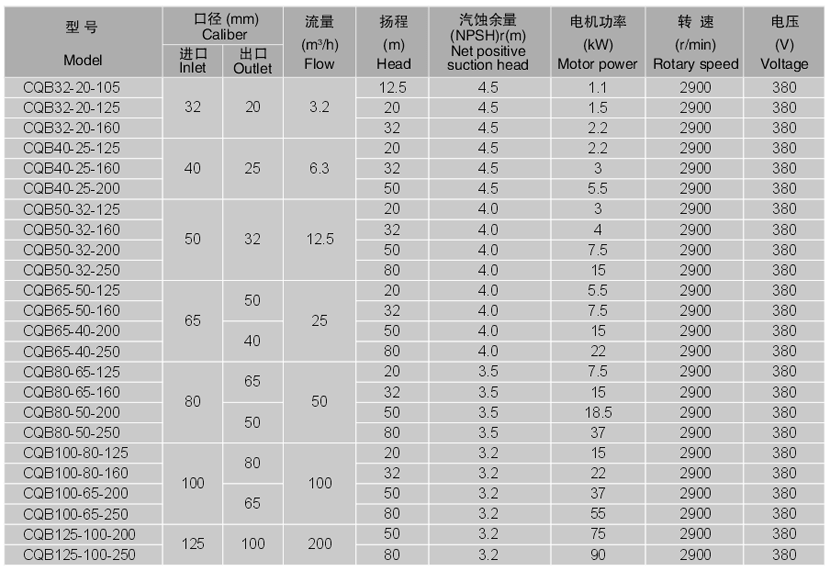 3 Selection Chart:

4 Dimension Drawing: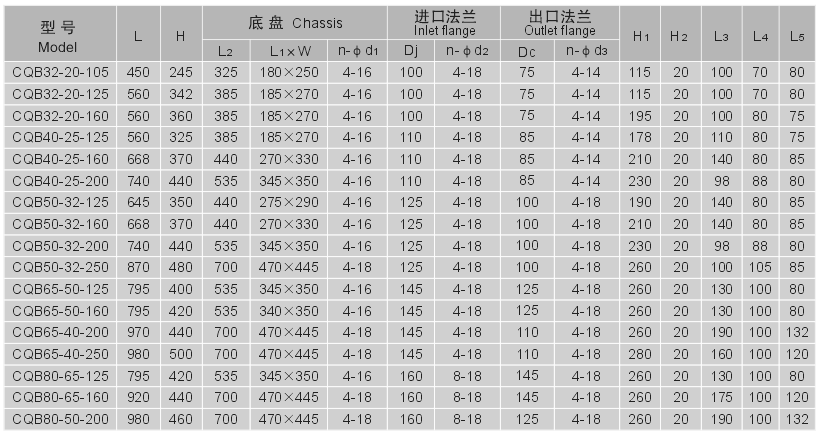 CQB  Magnetic drive centrifugal pump product advantages
1.Casting
The pump impeller of the company by CZ standard chemical process pump castings (most market by IH magnetic pump pump impeller casting), the design pressure is 2.5Mpa, each of the pump body through the bearing test, even tiny leakage will be melted recast. Pump body after three passivation treatment, to ensure that the pump body color. Using the latest hydraulic design software to design hydraulic model, with excellent performance, which is to ensure long-term safe and reliable operation of the first major.
2.Magnetic pump magnetic circuit transmission principle
(a).The magnetic circuit of Halbach, which is developed by Shanghai Dian Ji University, which is dense, magnetic and push-pull, is magnetized in different directions according to certain law, and the maximum torque is transmitted by the magnetic force.
(b).Each pole magnet is composed of N (N is odd) rectangular magnetic stripe, its width is about fan (magnetic tile type) 1/5 or 1/3, the use of magnetic or magnetic field strength was increased by about 30%, the magnetic gap when the magnetic amount is reduced by about 30%, greatly reduce the eddy heat pump, improve the efficiency of 2~3%.
(c).Magnetic gap 7 ~ 9mm, cooling and lubricating the flow area is large, and can take away the vortex heat, reduce the temperature of the medium, to prevent the media cavitation.
NdFeB permanent magnet is used in the internal and external magnetic rotor of normal temperature stainless steel magnetic pump:
>Advantage
The maximum magnetic energy product (BHmax) value is 5~12 times of ferrite magnet
Can absorb up to 640 times its own weight
Good mechanical properties, easy cutting
Low price
>Shortcoming
High magnetic loss under high temperature
Easy corrosion
Efficiency improvement 2~3%.
3.Stainless steel magnetic drive pump isolation sleeve is generally made of three parts: flange, thin wall tube and bottom plate through laser welding, each of the isolation sleeve must undergo pressure test, pressure test value is 2.5Mpa.
> Corrosion resistance from strong to weak order
High strength non-metallic materials
Hastelloy C alloy
Titanium alloy
316L stainless steel
304 stainless steel
> The electrical resistivity varies from large to small
High strength non-metallic materials
Titanium alloy
Hastelloy C alloy
316L stainless steel
304 stainless steel
4.For the stainless steel magnetic drive pump on the grinding parts, there are a variety of materials to meet the requirements of different operating conditions, customers can consult in detail.
Sliding bearing material for pump
> Antimony graphite and graphite
>  Silicon carbide
>  Pressureless Sintering SiC
>  Cemented carbide
Disclaimer: The intellectual property shown on the listed product(s) belongs to third parties. These products are only offered as examples of our production capabilities, and not for sale.
---
---
Write your message here and send it to us