BWQ Explosion-proof Submersible Sewage Pump
Product Detail
Product Tags
Features:
BWQ series Explosion-proof submersible sewage pump is a lastest type of explosion-proof products
developed by our company, explosion-proof performance is in accordance with GB3836.1-2010 Explosive Environment part I:
General Requirements for Equipment and GB3836.2-2010 Explosive Environment part II: Explosion-proof Shell "d" Protection
Equipment made of explosion proof standards, Explosion-proof mark: ExdIIBT4.
The whole series products have acquired explosion proof certification, type completed and convenient selection.
Application:
The product is used for sewage discharge in the IIB factory where the temperature group is T1-T4 of combustible gas or steam and air form an explosive mixture.
It's suitable for coal chemical industry, petrochemical industry, municipal engineering, urban engineering, hospitals, hotels, residential areas and other places.
Conditions of Use:
1.Meeting the requirement of explosion-proof in accordance with the product explosion-proof mark.
2. Supply power: 380V, 660V, 3 phase, 50HZ
3: Medium temperature: 0-40 ℃(above the temperature, there will be other hot water pump model)
4: Medium PH value: 5-9
5: Medium weight:≤1100kg/m3
6: Maximum depth: 20m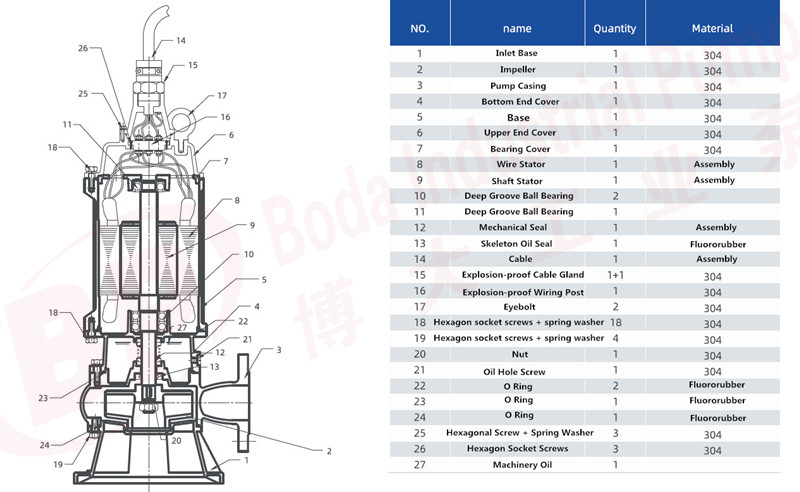 Disclaimer: The intellectual property shown on the listed product(s) belongs to third parties. These products are only offered as examples of our production capabilities, and not for sale.
---
---
Write your message here and send it to us