VS Vertical Sump Slurry Pump
Product Detail
Product Tags
Description:
VS pumps are vertical, centrifugal slurry pumps submerged in sump to work.They are designed for delivering abrasive,large particle and high density slurries.These pumps have no need of any shaft seal and sealing water. They can also be operated normally for insufficient suction duties.Wet parts of type VS pump are made of abrasion-resistant metal. All parts of type VSR pump immersed in liquid are lined with rubber outer liner.They are suited to transport non-edge angle abrasive slurry.
Typical Applications---
  Sump drainage washdown
  Floor drainage
  Mill sumps
  Carbon transfer
  Monitoring
  Magnetite mixing
Advantages:
The sump pump body is bolted to the support plate. The bearing Assembly is designed on the top of the support plate. The physical layout of the submersible sump pump simplifies maintenance operations
Vertical cantilever design eliminates the need of shaft seal or sealing water, the centrifugal sump pump can function property even when there is insufficient slurry getting to the suction side.
The open impeller design has vanes on both sides to balance the centrifugal forces to ensure stable operation. Wide flow passage allows large particle and high viscosity slurries to get through.
The double screen filters are set at the suction side to stop big particles out of the slurry. Protect pump life time.
Installation Types:
DC: The motor mounting base is set above the bearing assembly, connect with couplings. It is easyu to install and repair.
BD: A V-belt is used to connect the motor shaft to pump shaft. The motor frame is above the bearing assembly. In this way, it is easy to replace the grooved wheels. The purpose of swapping grooved wheels is to change the rotary speed of the pump to meet different pump working conditions or conform to the worn-down sump pump.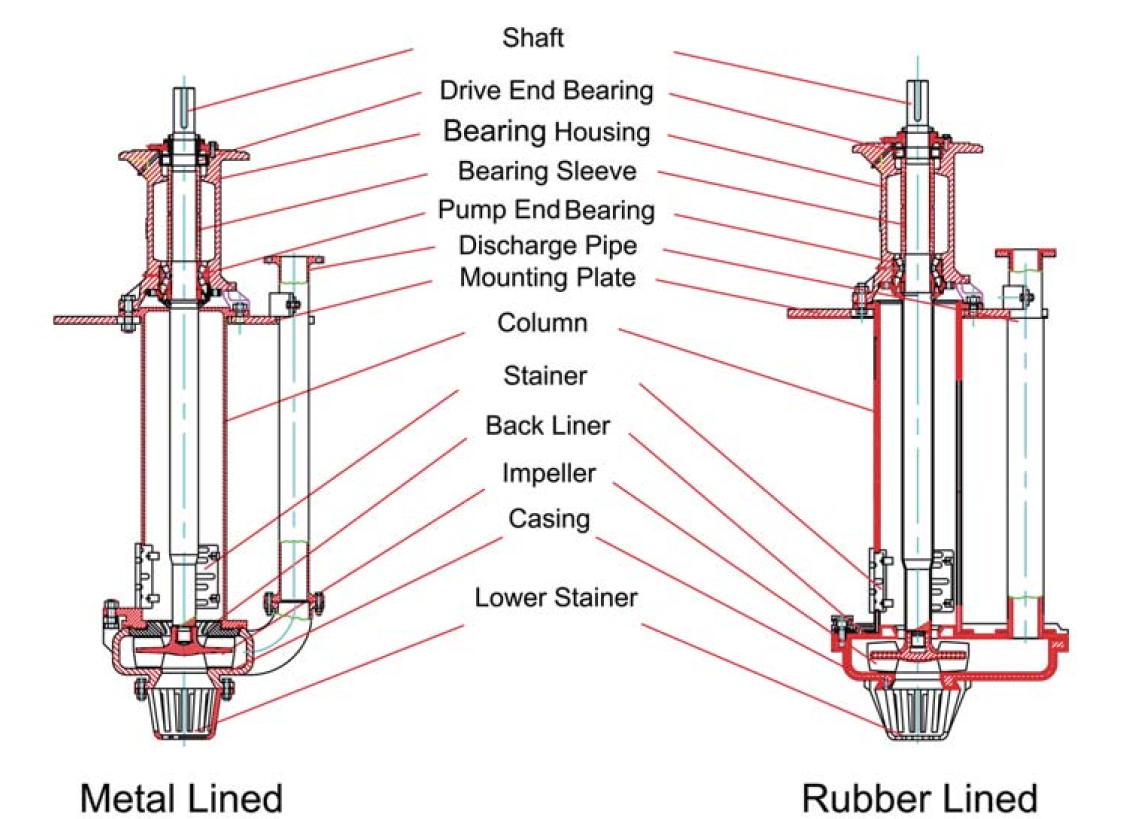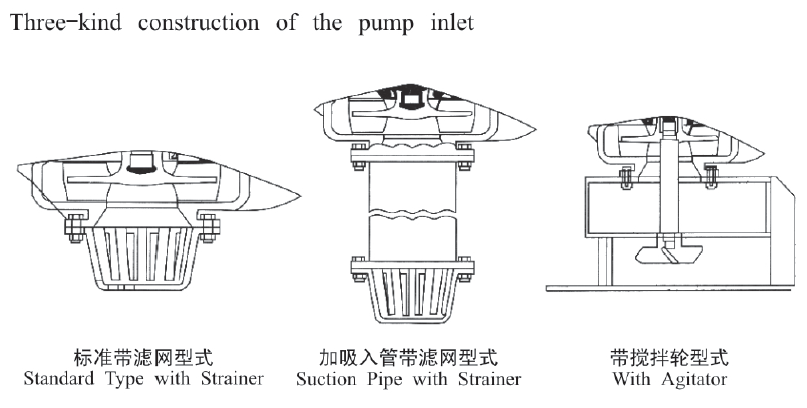 VS (R) SUMP PUMP PERFORMANCE PARAMETERS
Type

Allowable Mating Max. Power(Kw)

Range  Of  Performance

Impeller

Capacity/Q

Head/m

Speed/rpm

Max Efficiency/%

No. of Vanes

Impeller Diameter/mm

m3/h

L/S

40VS(R)

15

19.44-43.2

5.4-12

4.5-28.5

1000-2200

40

5

188

65VS (R)

30

23.4-111

6.5-30.8

5-29.5

700-1500

50

5

280

100VS (R)

75

54-289

15-80.3

5-35

500-1200

56

5

370

150VS (R)

110

108-479.16

30-133.1

8.5-40

500-1000

52

5

450

200VS(R)

110

189-891

152.5-247.5

6.5-37

400-850

64

5

520

250VS(R)

200

261-1089

72.5-302.5

7.5-33.5

400-750

60

5

575

300VS(R)

200

288-1267

80-352

6.5-33

350-700

50

5

610
Disclaimer: The intellectual property shown on the listed product(s) belongs to third parties. These products are only offered as examples of our production capabilities, and not for sale.
---
---
Write your message here and send it to us