FJX Axial Flow Evaporation Circulating Pump
Product Detail
Product Tags
1 Summarize:
Integrated advantages of evaporation circulating pump both at home and abroad, we have developed FJX axial flow evaporation circulating pump, widely applied for evaporation, crystallizing, chemical reaction in the fields of chemical industry, nonferrous metallurgical, salt making, light industry, its typical application is as follows.
* Phosphate fertilizer plant:forced circulation for wet phosphoric acid concentration plant and AP slurry concentration plant.
* Bayer processing Alumina plant:forced circulation for sodium aluminate evaporator.
* Diaphragm caustic soda plant:forced circulation for caustic soda (including NaCl) evaporator.
* Vacuum salt:forced circulation for NaCl crystallizer.
* Mirabilite plat:forced circulation for Na2SO4 crystallizer.
* Hydrometallurgy plant:forced circulation for copper sulfate and nickel sulfate crystallizer.
* Combination soda plant:forced circulation for cold separation crystallizer of ammonia chloride, salting out crystallizer of ammonia mother liquor.
* Pure soda plant:recovery of ammonium waste liquid, forced circulation for CaCl2 evaporator.
* Paper making factory:forced circulation for black liquor concentrator.
* Power plant:forced circulation for flue gas desulfurization, coking plant, Ammonium sulfate crystallizer of chemical fiber factory.
* Light industry:forced circulation for condensate alcohol, evaporation of citric acid, evaporation of sugar solution.
2 Structure Features:
Good anti-cavitation ability
High efficiency, wide effective area:via changing installation angle of impeller and rotation speed.
Slow speed type:stable operation:small wear of flow parts, long service life;small damage to crystal, applicable to evaporation crystallization.
Cantilever type rotor:compared with dual-support type, less shaft seal, light weight, small size and convenient maintenance.
Pump body center support:compared with pump body center support, it is blessed with better alignment ability.
Back door structure:convenient and swift maintenance, draw out rotor without removing inlet and outlet flange.
Advanced axle seal:adopting cartridge mechanical seal, service life 6-12 months;adopting novel fluid lock packing seal, packing life 3-6 months.
Evaporator without bellows:applicable for elastic pump base or suspended pump, with reliable thermal compensation, economizing investment on evaporator.
High reliability:high strength of pump axis, big bearing capacity of bearing.
3 Structure Drawing: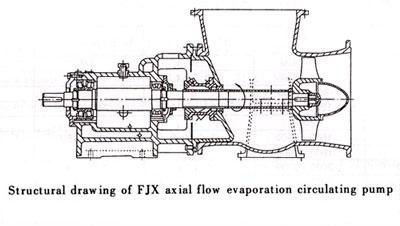 4 Technical Data: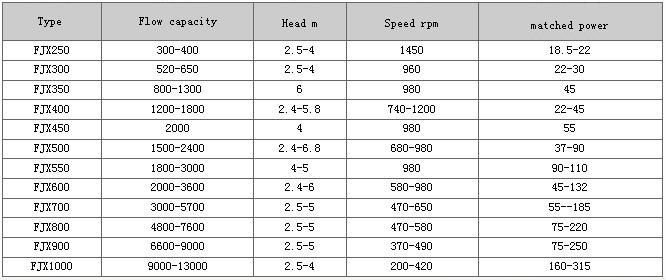 Disclaimer: The intellectual property shown on the listed product(s) belongs to third parties. These products are only offered as examples of our production capabilities, and not for sale.
---
Previous:
High-Quality OEM Stevens Sewage Pumps Manufacturers Suppliers - BQS/NS Explosion-proof Waste Water – Boda
---
Write your message here and send it to us
Products categories